Google News Initiative Advertising Revenue Playbook
The goal of this playbook is to support small and mid-sized news organizations in their efforts to successfully monetize web content and grow their digital advertising revenue. This playbook is designed to guide you through your advertising revenue journey, especially if you are in the early stages of that journey.
SECTION 1 is where you should begin if you do not yet have a digital advertising business or would like to better understand the basics of programmatic advertising. In this section we address questions like:
What are the key factors for success?
What tools do you need to run a successful digital advertising business?
Start with Section 2 if you already have a digital advertising business and are looking for ways to improve your strategies or gain new insights to improve revenue. In this section we address questions such as:
How can you use audience data to optimize your digital advertising business?
How do you build an organization and team culture to drive greater digital advertising success?
What advertising solutions are best for your market, and how do you prioritize and package them?
What does successful campaign management look like?
Partners




Other Contributors




Welcome to the Advertising Revenue Playbook!
Our experience working with global news organizations has uncovered that success in digital advertising not only requires an organization equipped to deliver digital advertising solutions but also one that understands its unique market position and its audiences. As a result, there isn't a one-size-fits-all approach. This playbook is designed to provide a structured approach to think through the decisions, trade-offs and investments involved in building and strengthening a digital advertising business. We hope it provides your news organization with the resources to set goals, develop a roadmap and find success on your own unique digital advertising journey.
Chapter 1
Getting started with digital advertising
Chapter 2
Leveraging Your Audience to Accelerate Ad Revenue
What are some of the most important metrics to consider?
In this chapter, we'll focus on how you can more deeply understand your audiences to maximize your digital advertising revenue. Improving visit frequency, visit depth and the performance of your website can have a positive impact on growing your advertising revenue.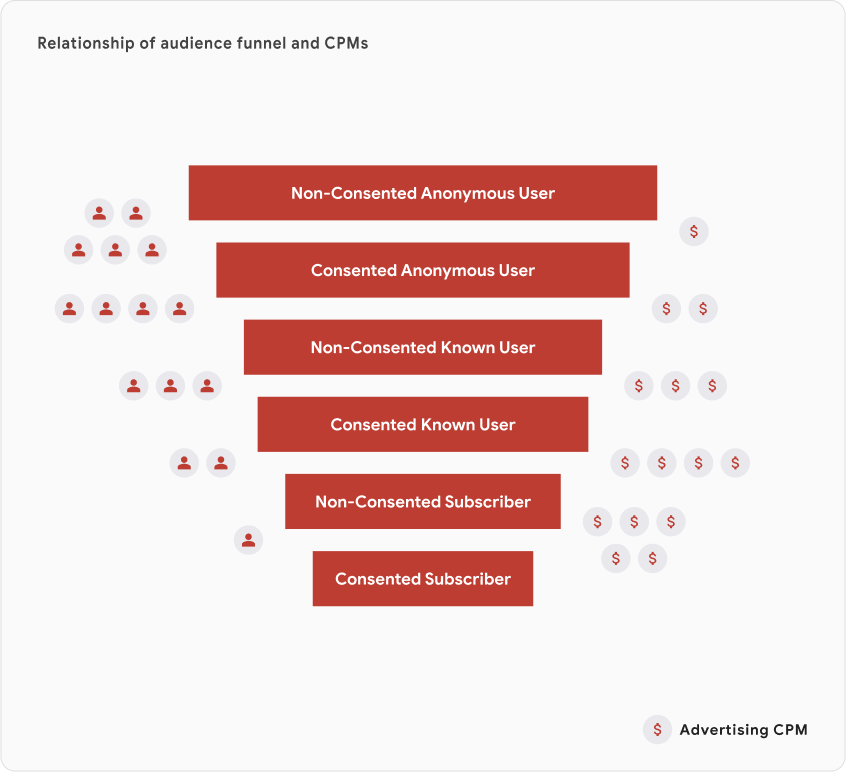 Understanding your performance against key metrics can help you understand where to focus your efforts as you look to grow advertising revenue. Here are some of the key metrics we recommend tracking.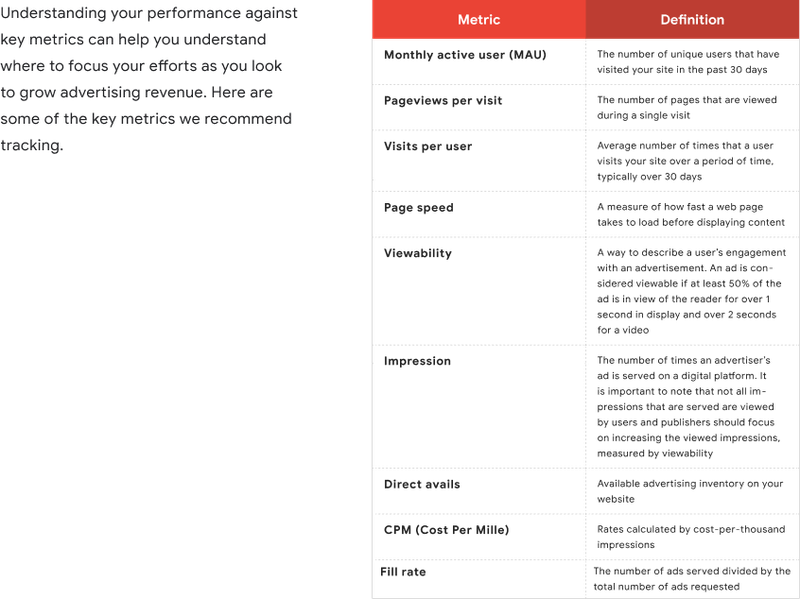 Across these metrics, there are two main types of data that you can use to understand your performance.

Your website audience will come from one of four traffic sources to reach your site.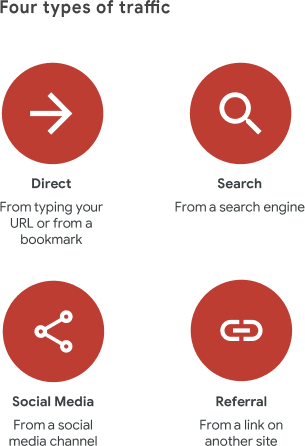 How do you segment your audiences and build personas with privacy compliance?
Your audience size, visit frequency and visit depth are three important factors in building and scaling a sustainable revenue model. Readers returning to your site more often and engaging more deeply grow your revenue potential for digital advertising. You can begin to understand engagement through the following questions:
What is the level of your audience engagement and how do you foster greater loyalty?
How can you use data to enhance your visitors' experience?
Where are the traffic sources used to capture your visitors?
Even if you are focused on advertising revenue, long-term success is dependent on strong audience development and strong reader engagement. Focusing on increasing visit frequency and visit depth can help you achieve your advertising revenue goals by boosting pageviews and ad impressions while also providing you more audience targeting capabilities.
How can you better understand your audience through News Consumer Insights?
News Consumer Insights (NCI) is a tool that works with Google Analytics to help you deepen engagement and grow your revenue. Free to use, it works with either the free or paid version of Google Analytics. Once connected to NCI, a report will populate based on your analytics data.
NCI allows you to segment your audience based on their level of engagement:
Casual Readers: readers who visited your site once over the last 30 days
Loyal Readers: readers who visited your site 2-14 times over the last 30 days
Brand Lovers: readers who visited your site more than 15 times over the last 30 days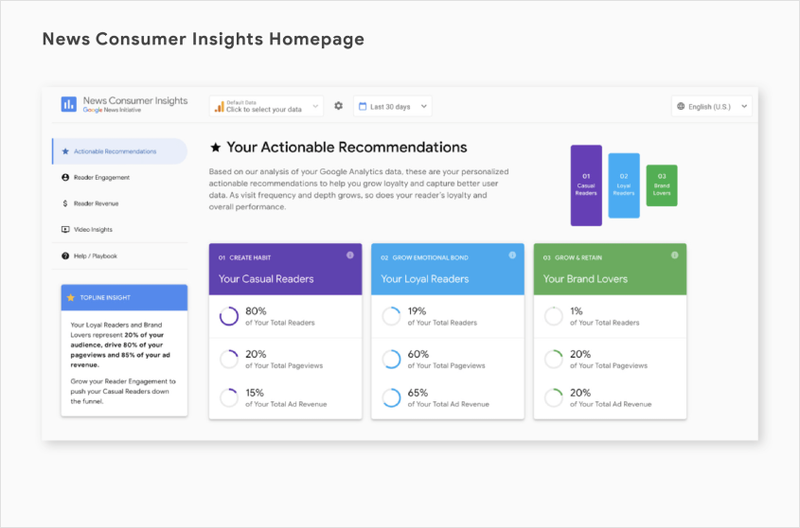 As you think about your advertising revenue goals, you should be focused on growing reader engagement and pushing Casual Readers down the funnel to convert them into Brand Lovers.
Greek publication Proto Thema was able to leverage NCI's recommendations to not only increase audience engagement but also positively impact advertising revenue. By implementing key tactics suggested by NCI, Proto Thema saw a 13% increase in users month-over month (MoM), 21% increase in visits MoM, and a 24.8% increase in pageviews. This translated into a 13% increase in ad revenue MoM driven by ad impressions growing by 95%.
Similarly, many other news organizations saw positive impact to their ad revenue after implementing recommendations from News Consumer Insights:
Klix.ba in Bosnia & Herzegovina grew programmatic revenue by 72% and ad requests by 54% after implementing NCI recommendations
Independent in Ireland saw an increase of 22% in ad revenue and 39% in ad inventory
Portale Bambini in Italy grew programmatic revenue by: 10x and doubled ad impressions
Following are recommendations from News Consumer Insights on how to drive more and longer visits, both of which will help increase the impressions and ad viewability rates for your website. You can get more detailed instructions on each recommendation on the NCI playbook.
1. DRIVING MORE VISITS
A. Use newsletters as a s trong user acquisitionstrategy through email pushes
B. Get readers to subscribe to web push notifications
C. Optimize news content discoverability with structured data
D. Track the impact of your structured data strategy in Search Console
E. Amplify your social strategy
2. DRIVING MORE VISITS
A. Develop a recirculation strategy
B. Optimize mobile site speed
If your organization does not use Google Analytics, you can leverage SimilarWeb to better understand basic information about your audience, such as where they are coming from. You can then map out these traffic sources (e.g. direct, search, referral, social) on a 2x2 matrix to see what percent of our audience is driven by each, and what value they bring to you, in order to prioritize your highest-value audiences, which can inform which external sources and partnerships are most valuable to you.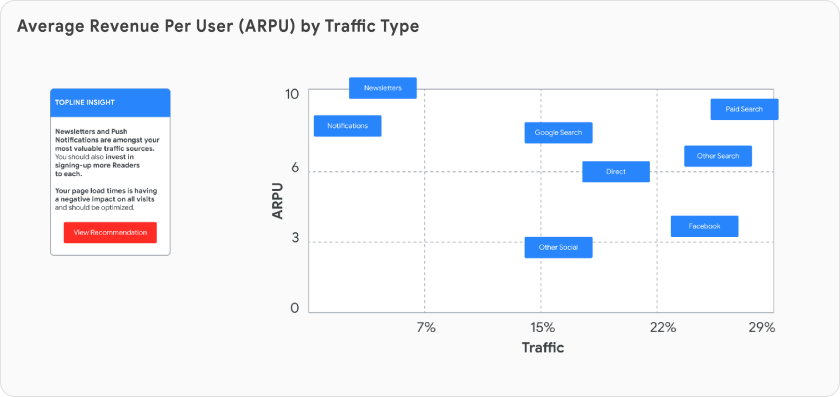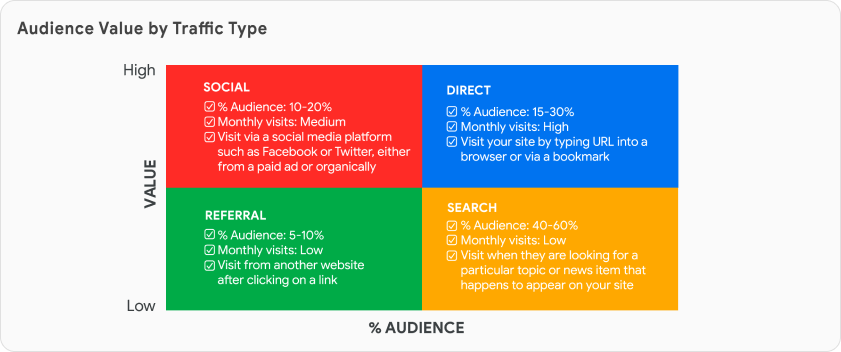 How can you leverage audience data to improve your advertising capabilities?
More than ever, enable advertisers to reach specific segments of your audience is a viable path to increase ad revenue, especially if you can effectively leverage first-party data. The vast majority of your visitors are likely coming from your community, but a better understanding of your audience location may help you unlock new opportunities. Using the data from your website analytics and ad inventory tools can help provide insights for your advertising strategy.
Penetration by zip or post code may increase appeal to local advertisers.
Understanding your draw from neighboring regions may be appealing to regional advertisers.
Identifying out-of-market visitors can also attract regional or national advertisers
One tool that can help you achieve an understanding of how your audience is engaging with your content is Realtime Content Insights. The tool can help you identify in real time which articles and videos are the most popular with your readers and what broader topics are trending in your region. All of the data presented revolves around what is currently happening on your site, what's trending on the web, how your content performed today and what content did especially well over the previous 30 days. Understanding this engagement on a deeper level can help you better segment and package your audiences for advertisers. Building both quantitative and qualitative insights on your audiences to establish the personas reflecting your readers will help you both with prospecting the right advertisers and with driving the price on potential packages, as we'll see throughout this playbook.
Primary and secondary audiences
Your potential audiences for advertisers fall into two main groups: primary and secondary audiences. These are the largest two audience segments available for you to sell, so you'll need to understand their general characteristics. Google Analytics and News Consumer Insights can help you get started with identifying the traits of your highest value audiences. You can gather additional data over time as you build a relationship with your customers. Examples below include more specific types of information your advertisers may also be interested in: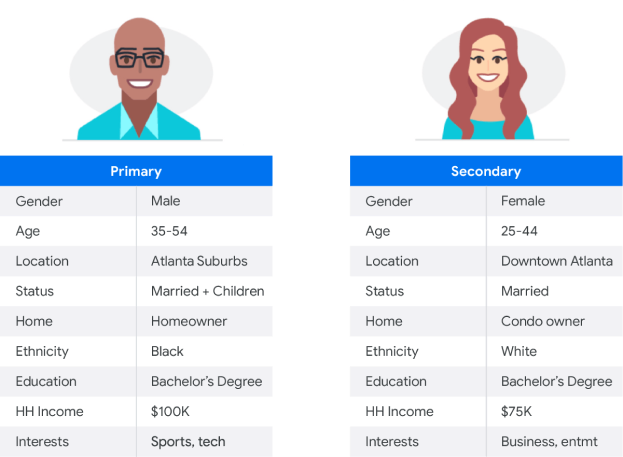 Additional audience segmentation
If you are just starting out, the following table shows some basic audience segmentation criteria and resources. Additional layers of segmentation allow you to better package the audi-ences your advertisers would like to reach and increase the effectiveness of their ad campaigns (see Chapter 3).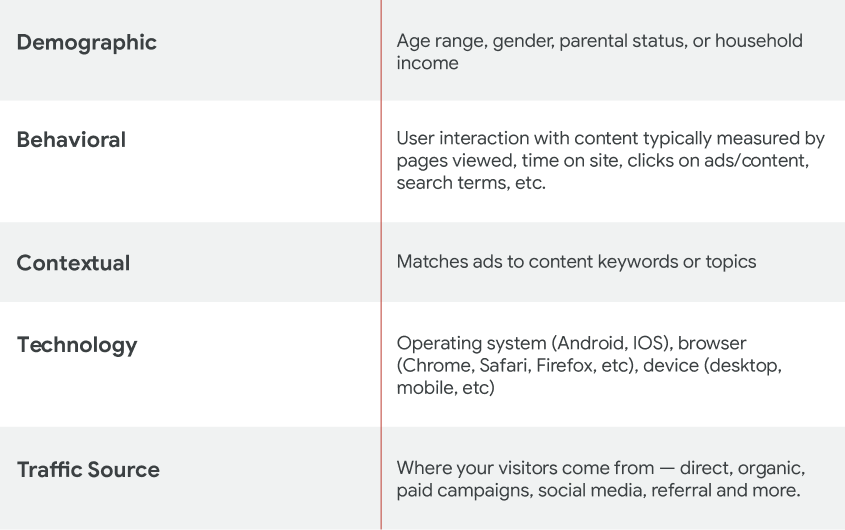 Audience segmentation can also be highly valuable when coupled with a deep understanding of your audience needs. And most often, the simplest way to understand your readers' needs is to ask them directly. Primary audience research, including surveys and focus groups, can help you more confidently segment your audiences and foster stronger engagement. You can learn more here about best practices on audience research capabilities.
A research study sponsored by the Google News Initiative found that out of all tested advertising products and solutions, targeted ads were the solution that garnered the highest interest amongst the 720 surveyed advertisers. This suggests that news organizations that can truly showcase their unique audience segments can gain a competitive advantage to differentiate themselves to potential advertisers.
News organizations who have leveraged the power of audience targeting include Grist, who secured their largest ever long-term sponsor and grew overall earned revenue by 66% through the first two quarters of 2021 by better defining the specific audiences and audience profiles that they reach. Madison 365 has also worked to clearly frame its audiences (and its editorial mission) to grow their earned revenue to represent over half of their annual revenue (read case study). Both of these organizations were part of the GNI-INN Sponsorships Lab.
Lastly, the work often continues beyond developing your audience segments. Building an audience-centric organizational culture is critical to operationalizing all of your hard work to understand and segment your audiences. This work includes identifying goals and metrics across your priority audience segments. For advertising revenue, the key metrics to orient around include monthly active users (MAUs), visits per reader and pageviews per visit. Once these goals are established, fostering an organization-wide understanding of these goals can help you grow your audience, and in turn, increase the ad impressions you are able to serve.
"Digital has allowed us to develop more targeted messages against our segmented customer base and increase our brand awareness. Segmentation helps us feel more confident about our digital media buys."
– National Advertiser interviewed in research study
How can you approach audience segmentation in a privacy-compliant way?
In digital advertising, consumer data can help you segment your audience and improve your advertisers' ability to reach the right audience.
However, data privacy is the number one concern for online consumers, with 86% of users taking active steps to improve their safety online. As a result, you must ensure you're collecting, storing, and managing consumer personal information in a privacy-compliant manner. To use any consumer data you collect for advertising purposes, you must first obtain the consumer's consent.
Google's Funding Choices is a messaging tool integrated with Ad Manager that can help you communicate with users to gather consent or opt-out requests as required by regulations like the European General Data Protection Regulation (GDPR) and the California Consumer Privacy Act (CCPA), or recover lost revenue from ad blocking users. In addition to giving users control over their data, Funding Choices enables publishers to decide what users can do as an alternative to whitelisting to address ad blocking. For example publishers can deploy Google Contributor, which offers users a choice to pay a publisher a defined fee for each page viewed without ads or publishers can define a custom alternative choice such as subscription, newsletter sign-up, etc.
Alternatively, you can build your own consent solution or use a consent management platform that is certified by IAB, then deploy it on your pages. Learn more about how you can develop sound privacy practices or access tools to help you comply with GDPR or CCPA.
Authenticated-consent ad buys
Ad inventory that has opt-in user consent attached will become increasingly more valuable. In time, advertisers may be willing to pay a higher CPM for consented audiences. According to Sovrn, European publishers' yield increases by 41% or more when consent data is made available to advertisers. More and more buyers are looking for validated consent signals for the audiences they buy which drives up bid prices and improves yield. Programmatic platforms are starting to enable advertisers to set their own unique data privacy parameters and evaluate inventory sources to ensure that their messages appear only in environments that they deemed compliant, brand safe and suitable.
How can improving site design and build personas with privacy compliance?
Site performance plays a significant role in reader engagement and advertising optimization.
High-performing sites have been shown to increase conversion rates and retain users, whereas slow sites can reduce return visits and search rank, ultimately impacting your advertising revenue performance. In short, a site with optimal performance is the foundation to developing long-term relationships with your users, which helps you maximize your advertising opportunities.
Two factors are particularly important for improving your site's performance and attracting more advertisers:
What is viewability and why is it important?
An ad is considered viewable if 50% of the ad is in view of the visitor for over one second in display and over two seconds for a video.
IAB recommends a minimum of 70% viewability to maximize advertising opportunities.
Average viewability across display ads can vary between 49%-54% in the Americas, 44%-58% in Europe and 47-62% in Asia Pacific. You can check viewability rates by country here and compare how you perform versus these averages. Viewability tends to be highest for YouTube ads, then video ads, and relatively lower for display ads.
Improving your site's viewability will: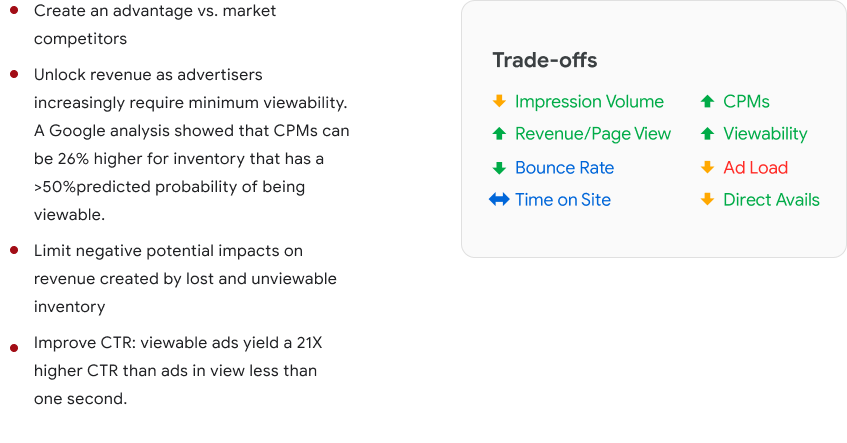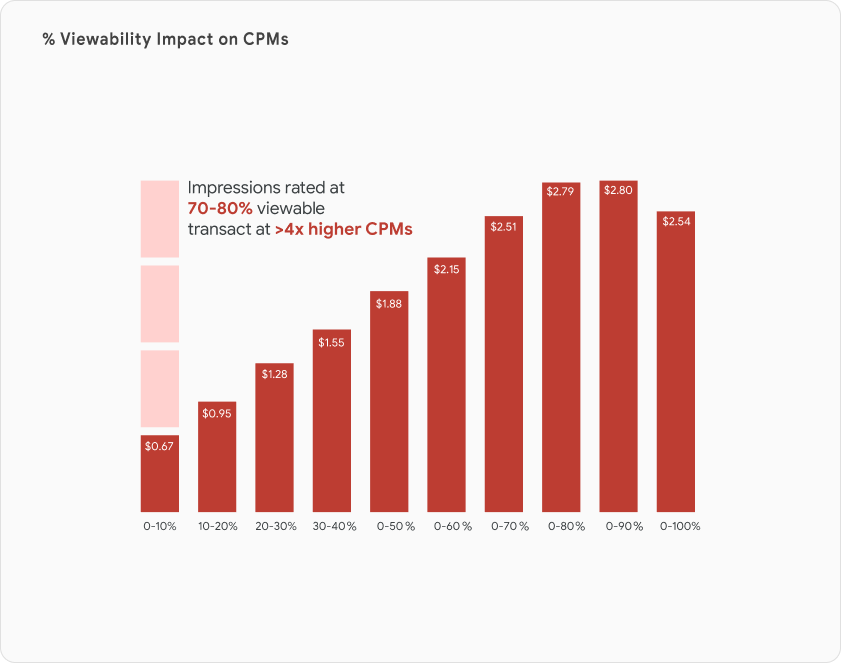 How advertisers value viewability
More and more advertisers are recognizing that ads with higher viewability produce a better return on investment for their campaigns. More viewable ads generate higher user engagement and ugh-rates which means better performing ad campaigns. That's why advertisers are often willing to pay more for viewable impressions. For every 1% increase in viewability, publishers tend to see an uplift of approximately 2% in their CPMs ultimately increasing ad revenue. In addition, some marketers are even excluding less viewable ads from their buys. The relationship between viewability and ad revenue is apparent, so you should prioritize it to increase the overall value of your inventory.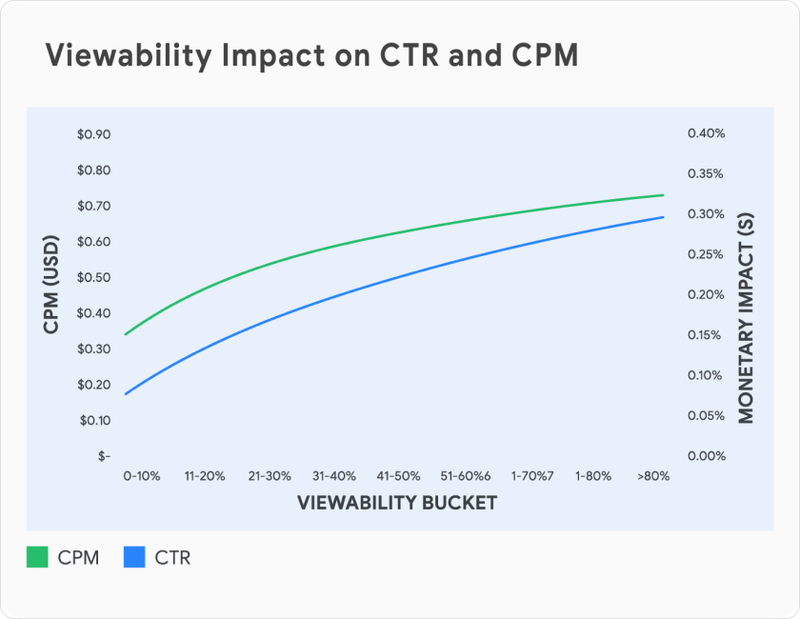 Aller Media, a Scandinavian publisher that owns a variety of media outlets, partnered with Google Ad Manager to build fully responsive native ads creating a seamless user experience on both mobile and desktop that increased their overall viewability. The results were 67% higher ad viewability across all devices with an 88% increase on mobile, which helped them attract more brand advertisers.
Optimizing for viewability can be complex and is different for every publisher. You must weigh many key performance indicators (KPIs) across many products and revenue streams, comprehensively testing for all of them.
To increase viewability, you can consider the following tactics:
Ad placement: Pay attention to where you place your ads.

Above the Fold: Consider placing ads near the bottom of the screen (right above the fold). This placement has shown the highest viewability rates. Ads placed just below the top navigation bar have a higher viewability rate than those placed at the very top of the page. At the same time, don't forget about user experience. Too many ads above the fold will make your page appear cluttered and your visitors may leave the page.

Below the Fold: Ads placed on the left or right side have higher viewability rates than those placed in the middle. Additionally, placing ads in a separate column from the content can keep the content column clean and unobstructed, and may increase the chance that the user proceeds down the entire page.
Optimize page length. Short form content yields higher viewability. Set pages to have only one fold. If you must have longer form content, activate infinite scroll.
Optimize for speed and responsiveness: Ads load faster and have better viewability rates on speedy and responsive sites and apps. This can be particularly important in emerging markets with slower connection speeds. Implementing AMP format can be one way to ensure that your website is fast and user-first.
Use Google's PageSpeed Insights to analyze the content of a web page, then generate suggestions to reduce latency and make the page load faster. When pages load faster, ads load faster and viewability rates to go up. Similarly, use an analytics solution like App Speed reports to measure how fast app pages are loading and how long different requests take to load in your app.
The Long Beach Post implemented AMP and AMP Ads to help improve speed and responsiveness, with breaking news pieces receiving nearly 10x more rich results impression and click-through rates that jumped from 3% to nearly 27% on newly implemented mobile AMP breaking news stories.
Place ads in line with the main content or in content-rich areas of the site. When you choose
ad placements it's important to consider the user experience. Avoid placing ads in areas with little or no unique content or overloading certain areas of the site with too many ads. In the end, you want to place your ads where users are looking.
Explore implementing lazy loading for article pages, which means waiting to load the video and serve an ad until someone scrolls down further on your page. Lazy loading can increase the speed of your site, reduce load time and latency, and improve viewability of your video ads.
Use the right ad sizes: Taller ads have higher viewability (e.g. 160 x 600, 300 x 600 or 320 x 50).
Pay attention to ad types: Sticky or anchor ads have higher viewability. Additionally, consider using responsive designs to ensure a great user experience no matter where someone is consuming your content.
Minimize passbacks: Ads also tend to load more slowly when ad calls are passed from one ad solution to an other through a system called passbacks. The fewer passbacks that happen, the faster ads can load, which can increase viewability rates.
You can read additional tips on viewability, watch this video on viewability best practices or access further viewability best practices for video here.
How does page speed impact viewability and CPMs?
Page speed is important to increasing engagement, viewability and advertising monetization. You can test the speed of your own site and benchmark against others using the PageSpeed tools here.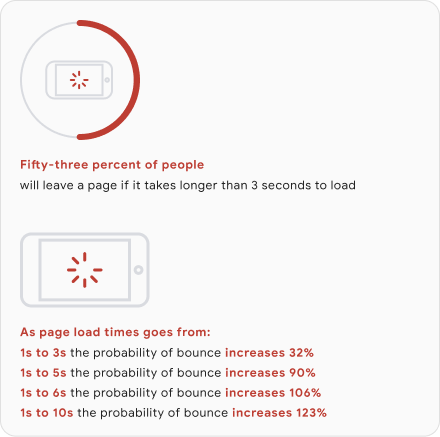 How do you increase your page speed?
Choose a performance-optimized hosting solution
Compress and optimize your images
Reduce your redirects
Cache your web pages
Enable browser caching
Use asynchronous and defer loading for your CSS and JavaScript files
Minify CSS, JavaScript, and HTML
Leverage a content delivery network (CDN) Eliminate unnecessary plugins
In 2019, AccuWeather dug into reporting data provided by Google Ad Manager and realized that their low mobile web viewability was likely the result of latency caused by tags on pages. The poor latency was slowing both ad and page load times. They needed a way to make these pages more lightweight without affecting overall revenue performance. Between Q4 2019 and Q1 2020, its teams ran various tests with multiple code clean-up strategies to reduce mobile web page load time, decrease latency, and improve ad viewability. In particular, AccuWeather tested the effectiveness of their premium top banner slots.
Since completing its final testing sprint in April, 2020, AccuWeather has seen a 34% increase in domain-level viewability, 3x faster page load time, and a 50% decrease in time to first ad request. These product successes have translated to increased revenue, as shown by 42% CPM growth, 39% revenue growth, and a 10% increase in render rate across all ad slots. In particular, viewability for top-tier 300x250 ads grew from 50% to 75%
To explore how to better optimize your own site performance, here are some additional resources:
How to create mobile-optimized content through Google AMP
Measure your Core Web Vitals to get more advanced recommendations on how to improve your site performance (note: requires technical resources for implementation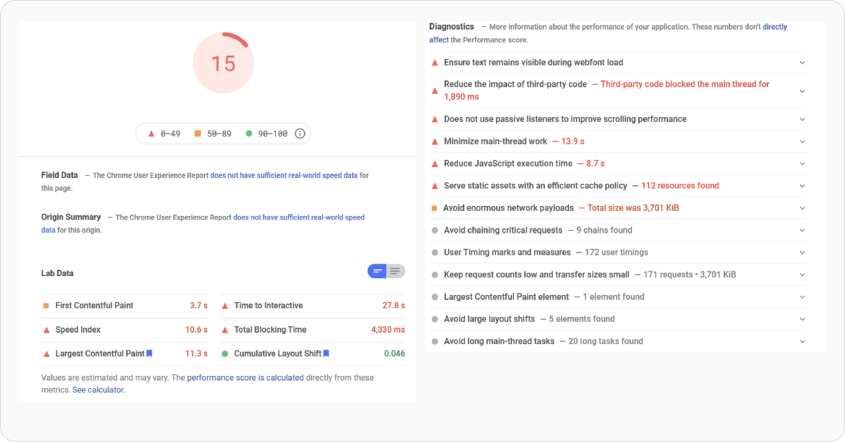 Chapter 3
Developing your sales solutions
How can you leverage your audiences?
In chapter 2, we discussed understanding who your audiencesare and how they engage with your site. In this chapter, we'llfocus on how to sell the opportunity to engage with thoseaudiences to advertisers -- in what formats and at what price.
Leveraging audiences on your site
There are three ways to convert your audiences into ad revenue opportunities on your site: CPMs, sponsorships or share of voice (SOV). To determine the approach that works best for you, you'll need to do some math.
Audience Extension
In addition to reaching visitors on your site, you can also access online audiences on other websites and platforms through audience extension. This approach utilizes technology to help you expand the reach of an advertiser's campaign to relevant audiences that have provided consent for activities related to advertising and analytics.
Example: An advertiser wants to reach people 25–54 interested in sports by purchasing 2 million impressions.
Impressions on your site 1.5 million
Add audience extension 0.5 million
Total Impressions 2.0 million
There are several digital audience extension providers you can explore including Google Display & Video 360, Simplifi, Xandr, MediaMath, Centro and theTradeDesk to name a few.

What products will you sell?
While audience-based advertising is preferable to advertisers, you'll also need to determine which digital ad products you'll offer to reach advertisers' desired audiences and how you'll price and package them.
There are several factors to help you determine your sales product strategy:
Type of products, which generally fall into four broad categories

Display/banner
Rich media
Video
Native

Determining high-value vs. low-value products

Type of product
Placement on site or page

Determining high value vs low value
Knowing the relative value of different digital products can provide a basis for determining how to prioritize your product strategy. This digital advertising product pricing continuum below can help guide your decisions on pricing your products and building your rate card.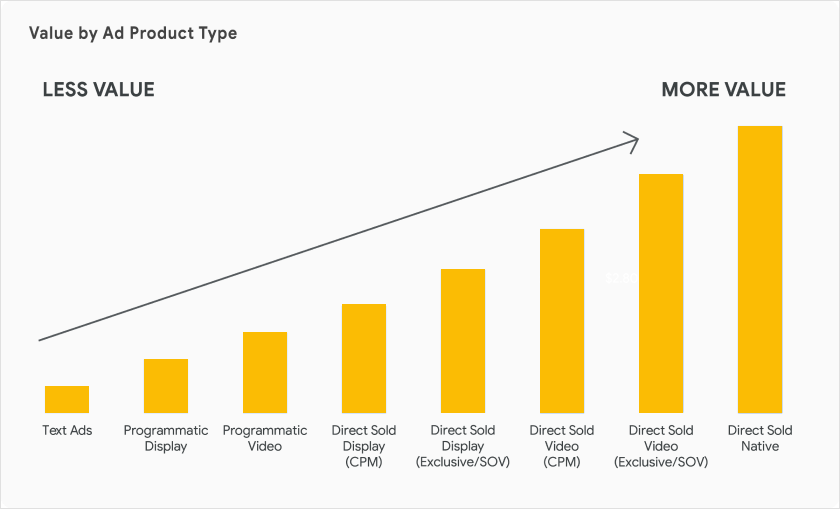 Direct-sold branded-content series are a higher-value product for advertisers that you also may want to explore. New York Amsterdam News was able to leverage existing relationships with advertisers that ran small amounts of advertising with the publisher to secure $100,000 in sponsorship of an Active Aging campaign. The organization strategically courted existing advertisers by sharing branded content early, placing advertiser logos across mock pages to generate excitement, and made the benefits clear to the advertiser. You can learn more, and hear from the New York Amsterdam News team on their work here.
In addition, sponsorships offer a high-value opportunity for advertisers. Among the areas where publishers have had particular success in selling sponsorships are newsletters and events. For example, Madison365 in Madison, Wisconsin generates the bulk of its earned revenue from its annual event, the Wisconsin Leadership Summit. In 2018, the first year of the event, they had about 350 attendees, 15 sponsors, and brought in around $80,000 in revenue from sponsors. Last year, the event had more than 600 attendees, 30 sponsors, and brought in $100,000 in revenue. (See this case study on Madison365 for more). The Texas Tribune makes millions of dollars, and 18% of its overall revenue comes from sponsorships for its events like the annual Texas Tribune Festival, which was converted to virtual in 2020. In addition, the CT Mirror has seen exponential growth to its earned revenue year over year from selling sponsorships to a series of virtual events that they began in 2020, buoyed by recommendations from the GNI-INN Sponsorships Lab. The Mirror also has recently started to sell sponsorships for its email newsletter and has sold out its entire advertising inventory in the newsletter for two months, using strategies learned in the GNI Lab.
How will you price campaigns and products?
Understanding pricing basics
Once you have established the audiences and products you want to sell, it's time to think about pricing.
You will want to set your CPMs at a level that generates the highest eCPM or the effective revenue generated per 1000 impressions.
Here's a handy overview and calculator to help you understand the difference between CPM and eCPM.
You'll want to consider both metrics as you develop your pric ing structure.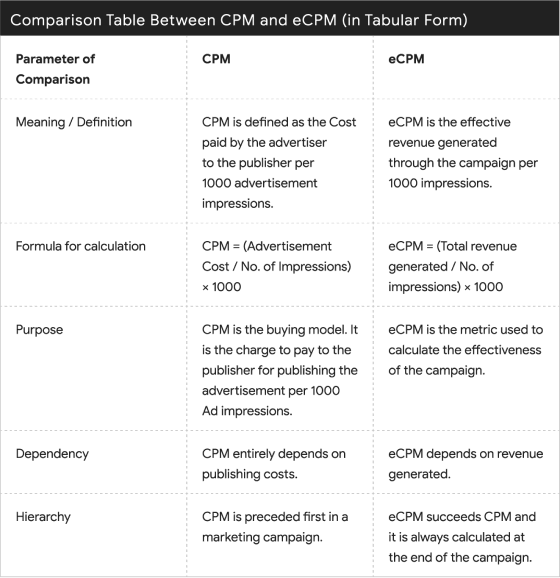 Establishing your base rate
Your first step is to establish a base rate for the inventory you're going to sell. This is the rate you expect advertisers will reasonably pay for each product you'll offer.
The base rate will differ depending on whether you're selling via direct or programmatic.
The base rate for direct sold inventory is typically two to three times the programmatic rate because direct sold is usually higher value, has more in-demand inventory and placement is guaranteed. (Source: Local Media Consortium)
When setting your base rate, it is important to consider both your in-market and competitor comparable rates as well as advertisers' willingness to pay (read more here)
For programmatic, advertisers bid for space that reaches their targeted audience, with the value of each impression determined in a fraction of a second. Unlikedirect sales, placement is not guaranteed and CPMs tend to be lower.
Determining your base rate and premium fees for direct sold
Determining the base rate or price an advertiser will pay to reach audiences on your site requires some upfront research. Asking local publishers and advertisers what the going digital rates or CPMs are in your market will help you ensure your rates are competitive. Once you've established a base rate, additional premium fees can be added for high-value placements, formats and audience targeting.
Here's a handy online calculator from ClickZ to help you calculate CPMs for your products.A pricing hierarchy example is below.

Determining your programmatic rates
Because programmatic requires individual auctions for each impression, the CPMs can be wide ranging.
Setting a price floor, also known as a threshold CPM, is essential to making sure your CPM doesn't drop to an undesirable level by preventing advertisers from serving campaigns below this amount. Calculating what that amount should be requires a balance between the CPM you can generate for your inventory and the overall volume of your inventory that buyers will purchase. Finding the right balance will require testing and experimentation:
If you set your floor rate too high, you will see a high CPM but much of your inventory may not get sold, which reduces your overall earnings.
If your floor price is too low, you may sell all your inventory but you may not maximize your revenue potential.
It's important to strike the right balance between CPM and fill rate to optimize your revenue. Below is a calculator to help you determine the optimal pricing structure for you.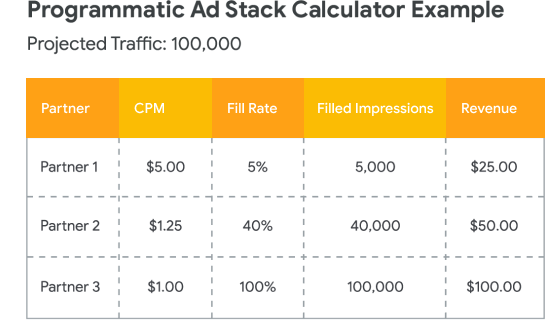 Audience Segmentation Pricing
Some advertisers will want to target a segment of your audience that has certain characteristics such as their purchasing preferences, where they live, their age or income. Offering this type of targeting is more valuable to advertisers and commands a higher rate. We learned the basics of how to set up audience segments in Chapter 2. Now we'll explore how to sell them.
In general, the larger the audience you have the better your ability to target specific segments and earn higher CPMs. If your overall impressions are low, you'll want to target more broadly at lower CPMs. Here's a guide.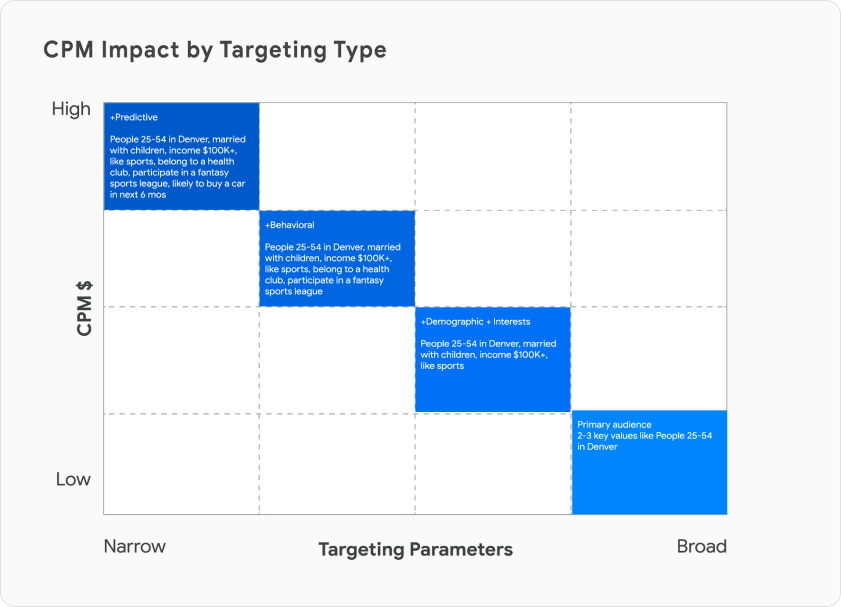 Creating a rate card
Once you've established your base rates, you should create an internal rate card for all of your products. A rate card will help:
Create a framework for organizing and communicating the value of your product offerings
Quantify the value of all your advertising assets
Provide a basis for price integrity with your your sales team
Your rate card should lay out the value hierarchy of your products from non-guaranteed placement or Run of Site (ROS) to premium pricing for guaranteed ad placements and targeting.

Here are digital rate card examples:
How will you package your offerings?
Now that you've developed your internal rate card, you need to create a public-facing media kit. Your media kit should provide an overview of your:
Company background
Market coverage
Audience demographics
Audience extension offerings
Products and rates
Sales team contact information
A link to your media kit should be placed on your website so potential advertisers can learn more about you.
MEDIA KIT EXAMPLES ARE BELOW:
Nonprofit news organizations
Before your sales teams speak to potential advertisers, the checklist below can be helpful to make sure they are prepared.
Competitive Analysis - Confirm that your pricing is comparable to competitors in your market by gathering real-time advertiser feedback in your market.
Rate Card - Establish your base rate and additional fees for premium products, placements and audience targeting.
Direct Sales Inventory - Confirm available inventory for local direct sales and ensure sufficient impressions are available.
Programmatic Inventory - Confirm inventory for your programmatic partners and ensure your IAB ad units are clearly defined.
Sales Collateral - Develop a media kit and sales presentation that showcases your brand and value proposition to advertisers.
Sales Training - Conduct training sessions to make sure your sales team understands digital advertising and can articulate why your offerings are unique and differentiated from the competition.
How will you position your brand to advertisers?
According to a 2020 Magid survey of advertisers and ad agency decision makers on their perceptions of local media, a publisher's relationship with its audience is a primary consideration when choosing which media brands to buy. The research shows that a trustworthy relationship is as important as ROI to advertisers. A news outlet that is trusted in their local market allows advertisers to embed themselves within that
community.
Emphasizing the trusted relationship you have with your local audiences and the high-value products you offer can help you stand out from the competition.Highlight your value proposition in your sales approach and showcase the success of your unique audience and offerings.

Chapter 4
Building an advertising team
Will you use in-house or outsourced sales and ad operations?
If you want to support sustainable growth, you will need to invest in both editorial talent to expand the depth and reach of your content and build a business team to grow your advertising revenue.
In a study of Latin American publishers, Sembra Media demonstrates the dramatic impact of having just one dedicated salesperson. Median revenue for ventures with at least one paid salesperson was $117,000, compared to a median revenue of $3,900 for ventures with no one dedicated to sales.
When you are ready to invest more in your advertising teams — or have already done so and want to grow your direct ad revenue — this chapter will deepen your understanding of how to build a successful sales team and help you decide what approach is best for you.
Example of digital team hiearchy for a small publisher
If you are considering directly selling your digital advertising services, your first decision will be whether to build an in-house team or outsource your sales and ad operations.
In general, you should only consider hiring staff if you expect those resources to generate enough revenue to offset their expense and deliver a positive return. Even if you are a one-person operation, you will be allocating some percentage of your time to the effort and need to justify the expense.
Advertising staffing needs can vary between minimal (e.g., just running AdSense) and having your own internal staff. There is also an intermediary option: outsourcing the digital ad sales, support and technology services needed to grow your digital ad revenue to a third-party management resource. This collaborative approach can help you reap some of the benefits of direct sales if you're not quite ready to hire an internal staff. It also allows you to diversify your demand sources, serve more sophisticated ad formats and usually results in higher CPM rates. If you want to explore this option, Google Certified Publisher Partners can be a helpful resource.
Necole Kane's online destination, xoNecole. com, is one of those publishers that successfully partnered with an outside expert to drive eCPM growth and grow the brand across multiple channels. Necole's website provides an open platform to support, educate, and inspire young women of color through sharing personal stories, discussing culture, lifestyle and politics. By leveraging SHE Media, a Google Certified Publishing Partner with a focus on female content, and their cross-departmental resources, xoNecole.com was able to increase CPM by 88% and saw overall performance across video, native, content, and direct sales skyrocket.
What are viable team structures, roles and responsibilities?
While there isn't a one-size-fits-all solution to advertising team structures, the below description of advertising roles and responsibilities are aimed at helping you decide whether your organization would benefit from these stakeholders.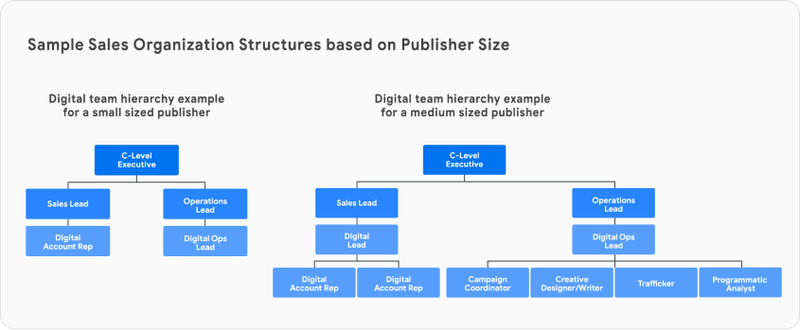 It is important to consider the roles, responsibilities, and reporting structure of the most critical roles for a strong sales organization.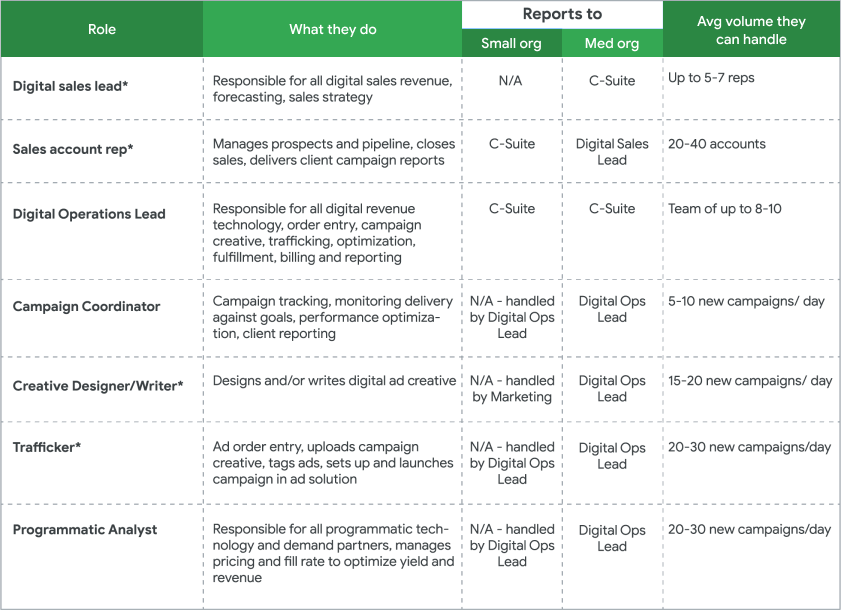 How should you compensate and incentivize your sales team?
There are several approaches to sales compensation structures you may want to explore.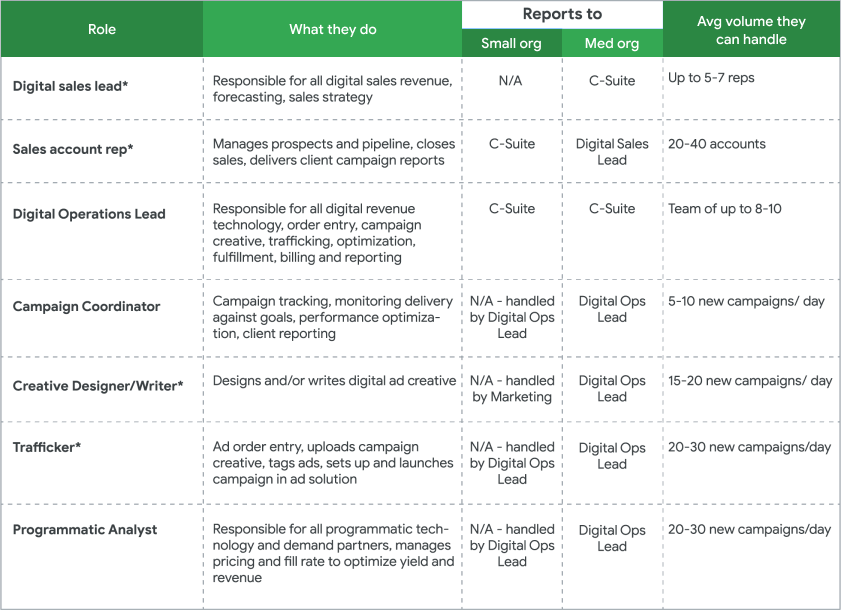 Why is diversity-equity-inclusion (EDI) important to your business?
Diversity-Equity-Inclusion (DEI) initiatives are essential to building a well-rounded workforce, particularly if your publication is located or does business in a diverse community. Ideally, your salesperson or sales team should reflect the demographics of your community. Not only does this expand the range of perspectives and opinions in your organization, but it may also facilitate making connections and building relationships with business owners in your area. If your community is ethnically diverse, embracing inclusion in your hiring practices provides an opportunity to better connect with the local population.
Research suggests that making diversity and inclusion a part of your hiring practices is also good for your bottom line. According to a study by Unrealized Impact, "diverse teams are more innovative and make better decisions, and diverse companies have better shareholder returns."
Small businesses are also embracing DEI to foster more meaningful customer relationships and attract higher performing talent. According to Clear Company, 57% of employees believe their businesses need to be more diverse.
To include diversity in your recruitment efforts, look to friends, acquaintances and business contacts who are part of underrepresented communities in your country. In North America, you can reach out to Historically Black Colleges and Universities (HBCUs) and Hispanic Serving Institutions (HSIs), as well as industry associations such as the American Advertising Federation, the National Association of Black Journalists, the National Association of Hispanic Publications, Inc., the National Newspaper Publishers Association, the Association of Alternative Newsmedia, and the Asian American Journalists Association.
Most importantly, make DEI a part of your organization and your department's DNA. Help employees understand the benefits of a diverse workforce and show your ongoing commitment to building a diverse team. Asking your employees for their help in your recruitment efforts will get them more involved and dedicated to this effort.
Many other studies have shown the benefits of diversity in the workplace: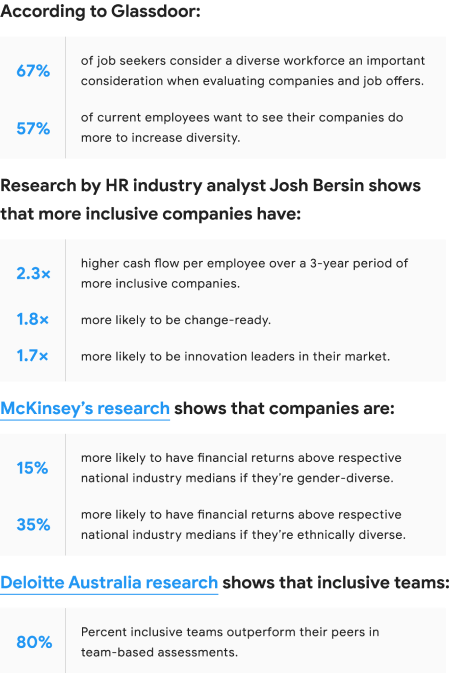 This Think with Google piece illustrates the positive impact of finding and nurturing diverse talent to enhance your digital advertising efforts. Advertisers and publishers alike are finding consumers don't just want content that is relevant to their interests and needs; they want to see ideas that speak to who they are and where they come from. While diversity can mean different things around the globe, an inclusive workforce can help inform the advertisements themselves as consumers increasingly demand that marketing efforts listen to their voices and represent their truths.
The Texas Tribune made diversity and Spanish-language skills a greater priority in hiring to better reflect the communities they serve, publishing these goals as part of their long-term strategic plan.
You can also read here about how The Journal News reinvented its coverage of Yonkers, N.Y., to connect with a more diverse readership, rebuild trust in the community and grow subscriptions.
How can you recruit and mentor?
Hiring your ad sales team may require thinking outside the box. While finding candidates with experience in media may be ideal, the talent pool could be limited, especially if you are a small publisher.
Where should you begin to recruit and nurture the talent you need?
You can start with word-of-mouth referrals from your existing employees and their networks. According
to Career Builder, 88% of employers rated employee referrals above all other sources for generating quality new hires and that employee referral programs can save as much as $3,000 per hire in the U.S.
Consider hiring local candidates by reaching out to civic organizations, area colleges and chambers of commerce. Hiring locally shows you are truly invested in the growth and well-being of the local economy and it may give your sales team a leg up when calling on potential customers. If hiring locally is not possible, consider relocation incentives for suitable candidates. (See insights, resources and tools below).
When creating your job posting, expand your definition of the ideal candidate (see recommendations on this in the Hiring and staffing section that follows). Too narrow a focus on a set mix of skills, education and experience may close the door to other candidates who can bring new talents and perspectives to your organization. Shifting your focus to allow for training and mentorship could also boost employee satisfaction and retention.
Hiring and Staffing
There isn't a standard approach to staffing your internal advertising team, but you will want someone who is dedicated to the work and is able to speak and listen to potential advertisers. A recent paper by the Google News Initiative and the Institute for Nonprofit News recommends that you consider the following tasks and responsibilities, and ask yourself which of them could be fulfilled by a current member of your team, and which will need a new person to handle them effectively. You will need a resource to:
Consistently reach out to new leads
Manage client relationships
Create proposals and get the sale finalized
Execute fulfillment for the sale, for example, order entry, upload ads to your website, billing
Track and manage creative assets on your website or other platforms
Track campaign performance and put together analytics reports for clients
The chart to the right shows the qualities to look for when hiring a salesperson and an interview guide that can be helpful while recruiting: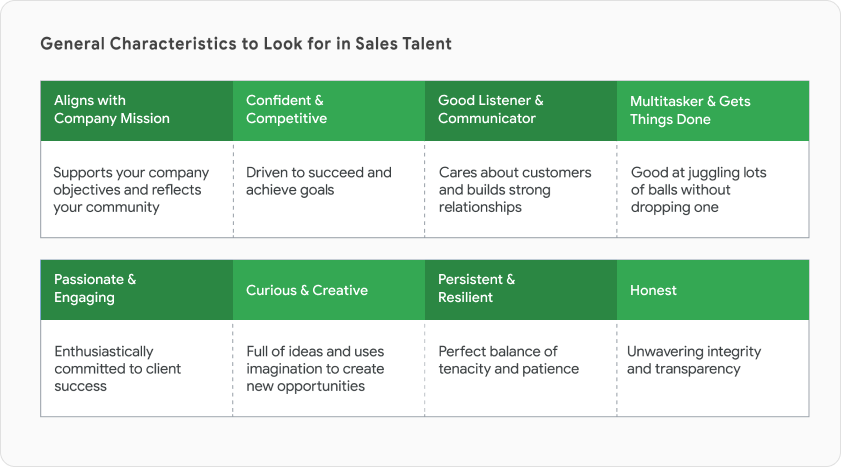 Insights, resources and tools
The Institute for Nonprofit News (INN) put together a list of hiring and recruiting resources that can help with your hiring efforts.
Mentorship and career paths
Once you've hired your sales team, it's important to set them up for success. Establishing career goals and providing mentorship to help them grow will result in stronger performance from the individual and more significant contributions to your company. A well-rounded mentoring program should include: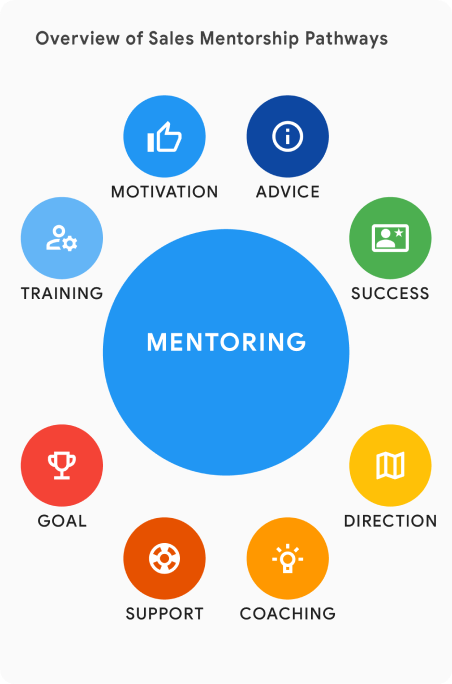 How will you train your sales team?
Ongoing sales training and incentives are key to meeting your sales goals. Ensuring your team has a basic understanding of digital sales is essential for them to effectively communicate your value proposition to potential customers.
Here are several ways to access no-cost or low-cost sales training resources.
The results of working to upskill your sales team and equip them with digital advertising tools and skills can be outsized.
Example:
A cohort of Indonesian publishers focused on upgrading their advertising revenue technology as well as upskilling their workforce, resulting in a 95% uplift in digital revenue. Rahim Asyik, Chief Content Officer at AYO Media Network, notes that through this upskilling, "We've had more visitors to our site and that's led to incremental revenue. Not only that, our employees have gained digital skills that we can continue to apply."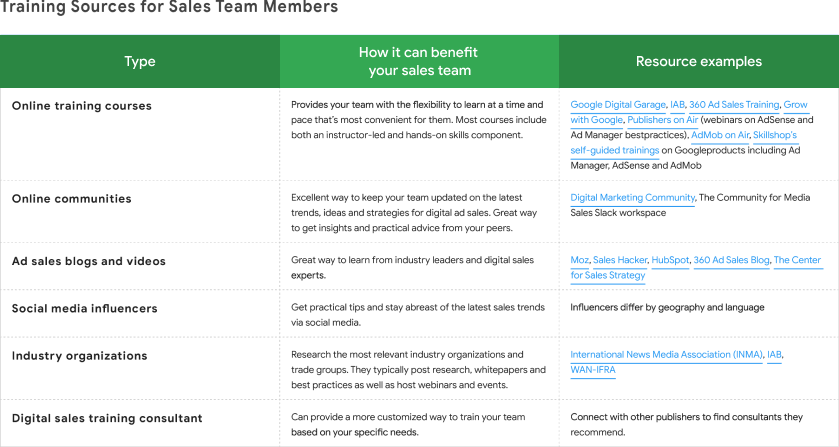 Chapter 5
Managing your campaigns for success
What is the campaign fulfillment process?
Once you've developed your sales solutions and sold a campaign, you need to optimize the campaign's performance and deliver results for your client. Inventory management, fulfillment, reporting and billing are also important for client satisfaction and retention.
Direct sold fulfillment process
Once you've established your selling approach and which technology will best support your digital advertising program (see Chapter 1), you'll need to develop a process to effectively manage campaigns. An example of the steps in the direct sold fulfillment process and who typically manages each step is below.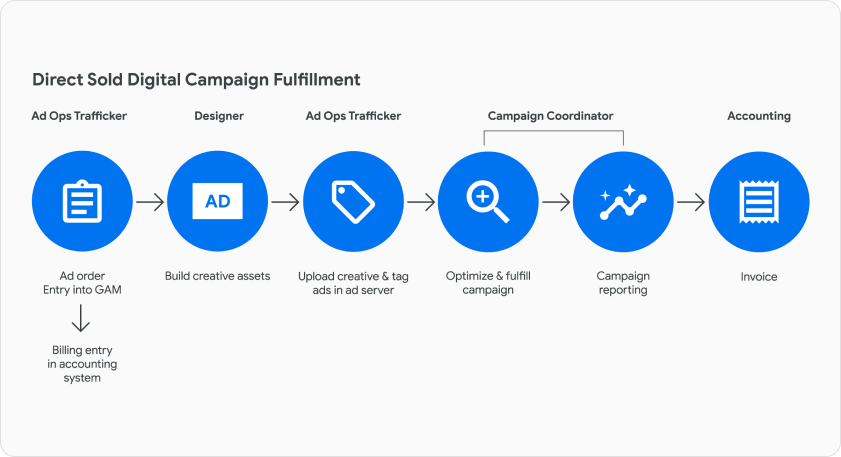 Why is inventory management and order entry important?
Ad inventory management
Overall ad inventory management within your ad solution is important in helping you maximize your revenue opportunities and deliver optimal results for your clients. It provides a way for you to:
Perform inventory forecasting, which estimates the number of impressions you have to sell each month. Although inventory forecasting is never 100% accurate, it provides directional guidance to your sales team so they don't oversell or under deliver against campaign goals.
Forecast your sell-through rate or the percentage of your total inventory you've sold each month. For direct sold ad inventory, you should strive for a sell-through rate of 75% or above.
Forecast impressions delivered and the likelihood of delivering the impressions you've sold
Manage all the digital products and pricing you offer
Manage and update audience targeting parameters
Manage and update audience targeting parameters
For each individual campaign it allows your sales and operations team to:

Check impressions availability prior to selling or launching a campaign to ensure you have sufficient inventory
Manage client expectations on the anticipated CTR
Optimize and adjust the campaign once it's launched to ensure campaign goals are met
Order Entry
Once you've sold a digital package, you'll need to create an efficient, well-organized system to keep track of each campaign's journey from order entry to final reporting. A common first step in campaign fulfillment is to create an insertion order (IO), which details the agreement between you and your advertiser to run their ads. The IO contains all of the information related to an advertising campaign, including:
Client name and billing information
Flight dates (the start and end dates of the campaign)
Ad unit dimensions and placements
Target audience
Number of impressions to be served
Pricing structure
Cost of the campaign
Terms and conditions (T&Cs), including your privacy policy
You can access a blank, template IO example here.
Creating an insertion order (signed by both parties) not only helps with order fulfillment but ensures that your advertiser understands what they are buying and that you are clear on delivery expectations. You may also want to include flexibility to adjust the campaign creative formats and placements to optimize performance as needed.
Order entry is the manual process of entering the information contained in the IO into the ad solution along with the creative assets ad tags and landing page links provided by the advertiser. Once uploaded to the ad solution, the automation begins. Before running each campaign you'll want to preview each ad and test the tags to make sure there are no code conflicts with your site architecture that would prevent the ads from displaying properly.
Managing campaign creative assets
Part of the order entry process includes securing and uploading the creative assets into the ad solution for all the digital ad formats you've sold for the campaign. Creative assets can be provided by the client or you may be responsible for building them yourself. Here are tips for developing creatives for each ad format. You'll want to ensure you either have internal or freelance resources that can build each type of creative (static banner, video, etc) you sell. You can access the Google Creative Best Practices Guide here.
How can you optimize your ad campaigns?
Once a campaign is launched, you want to make sure it delivers against your advertiser goals and generates the most revenue possible for you. This is where optimization comes into play.
Optimization is the ongoing process of improving the performance of a campaign through continuous monitoring, data collection, testing and adjusting. Your sales operations team should be familiar with optimization techniques and be armed with ideas to make sure campaigns are performing their best. Your goal is to deliver, in full, all of the impressions you've sold for a particular campaign and have the best possible CTR.
Your ad ops team may need to make changes to the campaign if these goals are not being met. If your campaign is underperforming, consider these tactics to optimize based on the issue: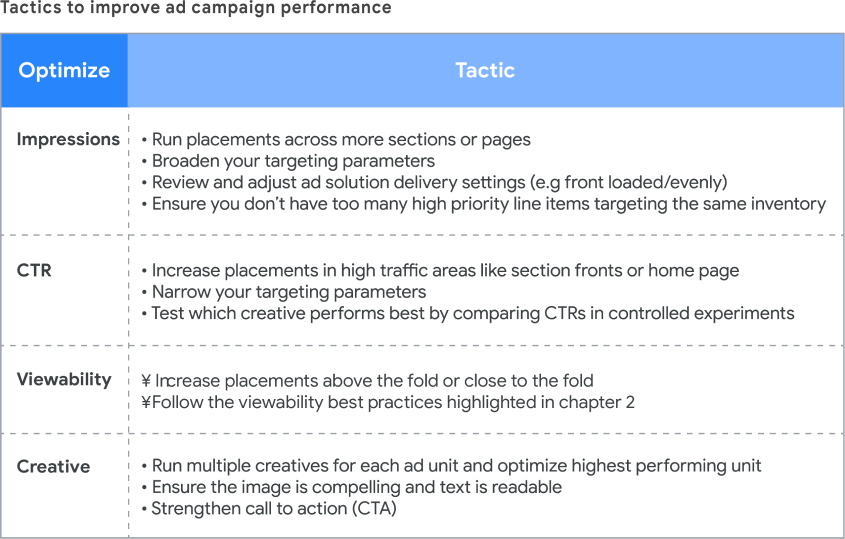 How will you handle billing and reporting?
Billing
Part of the campaign fulfillment process includes determining how advertiser billing will be handled based on your sales approach.
Outsourced ad sales/programmatic:
Your partner should handle the advertiser billing and provide you with a revenue share based on your agreement
Direct sales:
You'll need to establish an internal process to ensure digital campaigns are properly documented and invoiced to your advertising clients. This will require that final campaign information is sent from your ad solution to your billing system. .
Most clients require the following information on their invoice:
Line item or product level information including start/end date
Impressions delivered
Rate and total fee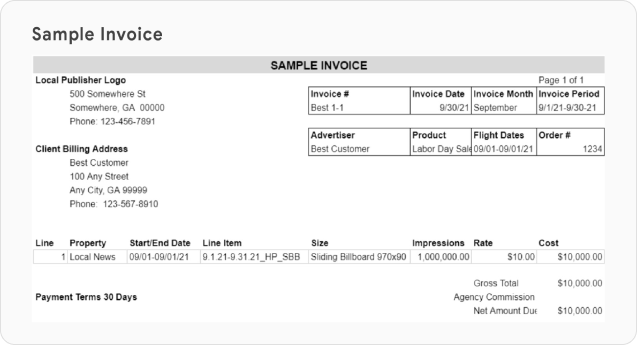 Reporting
Reporting is a critical part of the campaign fulfillment process, demonstrating the results you've delivered against your client's goals. Reports should recap overall campaign performance as well as results for each line item and typically include impressions, clicks and CTR.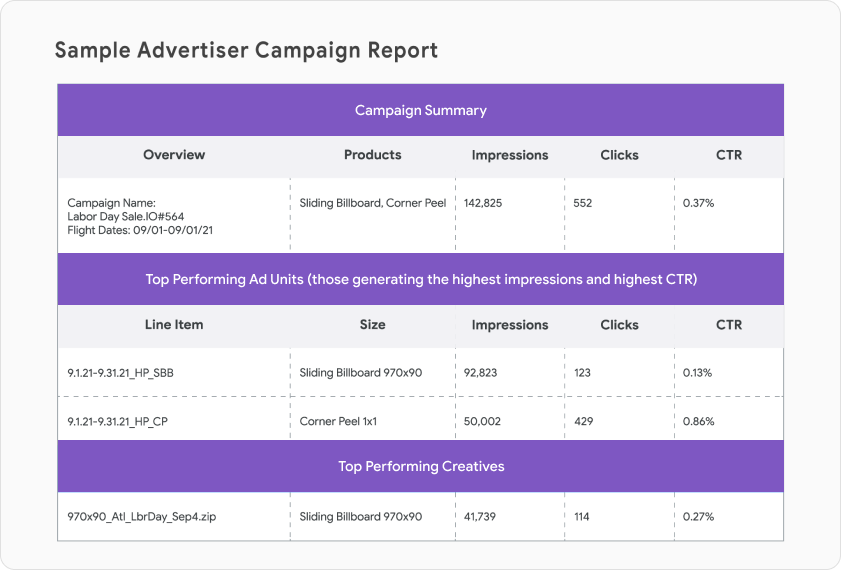 Chapter 6
Tools and resources
Your go-to resource
This chapter provides links to specific Google resources and workshops, other industry resources and organizations, and a glossary of useful terms. It is a go-to resource to stay up to date on the latest digital news, trends, guidelines and other useful information.
Google Tools and Resources
This chapter provides links to specific Google resources and workshops, other industry resources and organizations, and a glossary of useful terms. It is a go-to resource to stay up to date on the latest digital news, trends, guidelines and other useful information.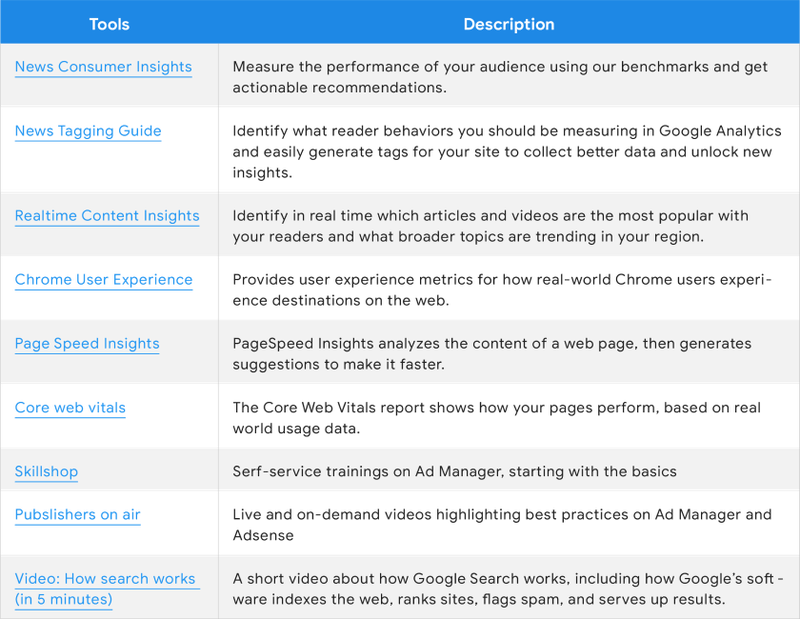 Resources and Workshops from the Digital Growth Program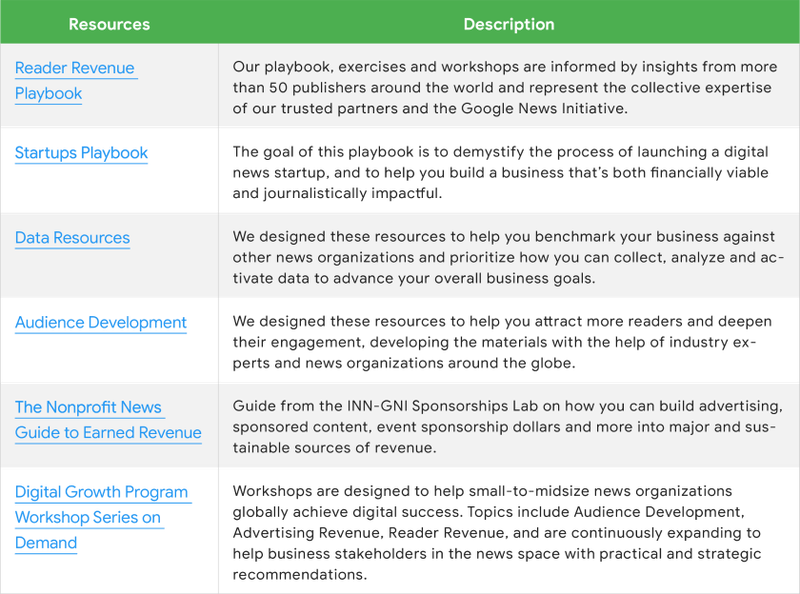 Other Industry Resources

Industry Research and Publications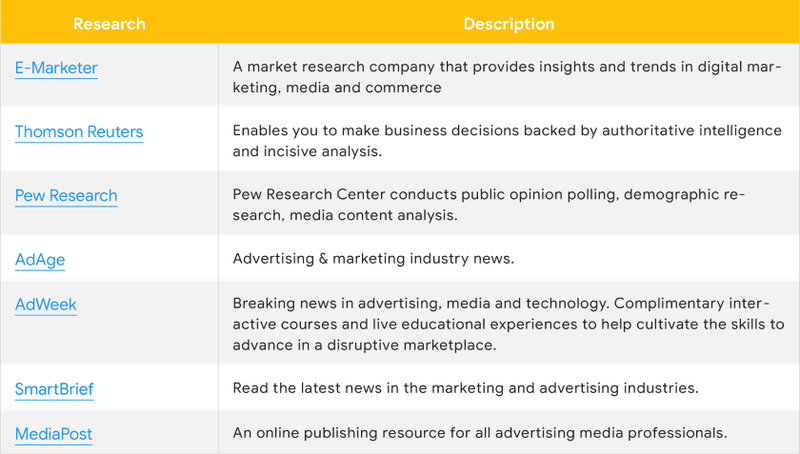 Industry Standards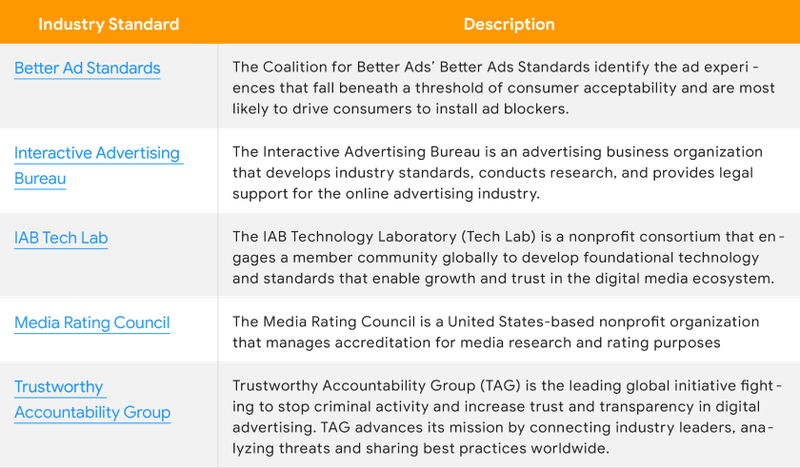 Advertising Glossary